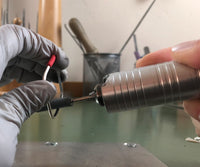 Hi I'm Donette, the owner and jeweler of Hoops and Dangles. I'm very happy to offer high quality jewelry with nickel free 100% sterling silver in refined shapes.
All earrings, pendants and larger link bracelets are handmade by me from sterling silver wire or sheet. First I form or carve the shape or shapes of each jewelry piece, (my favorite part!) Next is the soldering of components together, and lastly are three stages of polishing.
Because of the elegant movement along the arm and wrist, I started making chain bracelets. The small link multi-strand chain bracelets are designed to include components like rings or bars for aesthetics and ease of wearing.